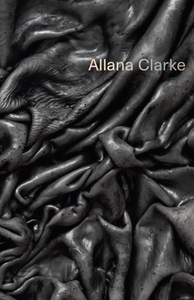 Kavi Gupta
Allana Clarke
Regular price
$6.00
$0.00
Unit price
per
This publication accompanies the exhibition Allana Clarke: I Feel Everything at Kavi Gupta | 835 W. Washington Blvd., opening April 14, 2023.
I Feel Everything showcases new sculptural paintings by Trinidadian-American artist Allana Clarke made from Salon Pro 30 Sec. Super Hair Bond Glue, a material that has become signature to her practice. Clarke's first solo exhibition to focus exclusively on this series of works, I Feel Everything is an aesthetic treatise on the poetics of black space—and Black space.
"As I developed the works I was thinking deeply about my relationship to the color black, approaching it as a space for discovery, experimentation, and multiplicity," Clarke says.
To create the works, Clarke pours thousands of 8-oz. bottles of Salon Pro 30 Sec. Super Hair Bond Glue onto mesh screens. She then wrestles with the material over the course of weeks as it slowly dries, imposing her physical and emotional will onto the substance. The undertaking subverts her medium's usual function, which is linked to systems that aim to negate aesthetics of Blackness. Clarke pioneered her performative sculptural method to create a tangible history of someone grappling with and moving through systems meant to denigrate Blackness.
"What is important for me in the process of rearticulating this material is that it has become free—a completely new context has been created for it," Clarke says. "This work is about freedom."
Published by Kavi Gupta, 2023, staple-bound softcover, 20 pages, 8.5 x 5.5 inches.
---
Share this
---