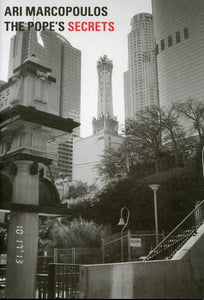 Nieves
Ari Marcopoulos: The Pope's Secrets
Regular price
$40.00
$0.00
Unit price
per
The Pope's Secrets combines all the elements that Ari Marcopoulos is dealing with in his practice. And then adds an element of design as well at some point in the book a series of horizontal images that follow each other and are basically rectangles that could be replaced by any other image or plain solid rectangles.
Ari Marcopoulos (b. 1957) is an Amsterdam-born photographer and filmmaker, living and working in New York and California. As a photographer, film artist and adventurist, Marcopoulos, who began his career in New York City assisting Andy Warhol, transplants himself into the intimate lives of people living on the edge. Artists, snowboarders, musicians and skateboarders have been both muses and commercial subject-matter throughout his quarter century career as a photographer. His stunning landscapes and playful portraiture offer a dramatic take on every day life, and a glimpse into all things awesome.
Edition of 1,000.
Published by Nieves and Innen, 2014, staple-bound softcover, 72 pages, 8.5 x 6 inches.
---
Share this
---