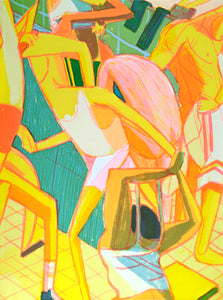 Carrie Secrist Gallery
Andrew Holmquist: STAGE LEFT (signed)
Regular price
$75.00
$0.00
Unit price
per
STAGE LEFT, January 29–March 12, 2016, was the third solo exhibition with Chicago-based artist Andrew Holmquist at Carrie Secrist Gallery. It presented Holmquist's newest body of work in a dynamic installation conceived and executed in a manner akin to the theatrical concept of dramaturgy. As the role of the dramaturge is to analyze, research, and compose all the elements of theatrical play through shaping and composing a story into a narrative that can be acted, Holmquist uses composition, color, and form as strategies for a structural narrative that can be seen.
In STAGE LEFT, painting is re-conceived as a tool or device for exploring the way that other mediums—film, costuming, comic books, and ceramic sculptures—can meld together to assemble a fictionalized alternative to reality. These varied elements tiptoe between familiar settings like a men's swimming meet to monochromatic alternative dimensions where figures mutate into the very landscape they inhabit. The resulting narrative is a parenthetical approach to shifting identity and concepts of staging and transformation, within a narrative without a clear beginning, middle or end.
This new artist publication made specifically for STAGE LEFT by Holmquist explores this new visual narrative. The book includes an essay by David Getsy. Edition of 500, signed by the artist.
Published by Carrie Secrist Gallery, 2016, softcover, 64 pages, 13 x 9.5 inches.
---
Share this
---